Module:The Three Days of Gettysburg (third edition)
From Vassal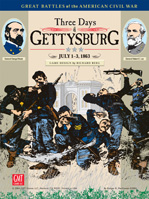 Files
Module Information
| | |
| --- | --- |
| Maintainer | Allen Dickerson |
| Contributors | Lee Trowbridge, Jason Stewart,Reg |
Comments
1.28c - Added mounted and dismounted cavalry as layers on single counter which will streamline unit list and save swapping out additional counters. Status can be toggled using the right click menu. Unfortunately this may affect existing saved games. Added Devlin to all 1st Day scenarios (How did I miss that!!) (Reg)
1.28b - Updated to display regimental (vice brigade) titles in Find Unit list. Hopefully you will find that a little more user friendly and adds to historical immersion. Fixed a couple of missing counters I found & updated scenarios. Added missing 88PA (2/2/I) and 5US (3/1/Cav) counters, fixed 3SC Batt image. (Reg)
v1.28a - Added Abandoned Guns as layer for artillery units. Changed SP Marker update key commands to resolve conflict with unit dynamic SP. (Reg)
v1.28 - Introduced dynamic SP markers similar to RoD module. Added unit shock markers. Set up menus to be similar to later GBACW modules. Added a Find Units map function. Can send commands to units from window. Players will only see their units, observer can see all. Added Assignment/Notes field to track Arty Battery/Brigade assignment to other Commands under Series Rule 4.32. Updated Objective markers and added an Objectives List (a bit of chrome). Updated graphics to implement counter errata (Whitaker and Dauphinais - 8/20/19) including artillery movement rates (see Series Rule 12.31). Verified the included scenario set-ups against the Scenario Book and Lee Trowbridge comments (1/7/2017). Also includes an expansion with two short scenarios from the Quake Coast Game Club & C3i (1996) converted to 3rd Ed. (Contribution to the Allen Dickerson module by Reg).
v1.27: Draw Pools display edited to correct error in the CSA EM mix.
v1.26: Missing unit added; Cutler's Union Brigade (2/1/1) was missing the 56th PA regiment. This unit is now added to the counter tray, and the Second Day and Third Day scenarios (in which the brigade appears set up to begin with) have been edited to incorporate the unit into the brigade (with appropriate redistribution of brigade losses)
v1.26: Bugfix: Union commanders right-mouse context menu is now working properly
v1.25: Various fixes and adjustments to create more player flexibility. Addition of Artillery Abandoned markers (per 2019 rules), Commander Overmove overlays (or optionally use the marker), Fatigue Markers (to use in place of overlays on brigadiers), SP markers that now go to 16 to support all combat units, etc.
v1.02: - Added an overview window (how could I have forgotten THAT??) - Consolidated a few markers; fixed the masking issue with the Confederate AM counters.
A v1.05 was indicated in error. There was another GBACW module I meant to upgrade. 1.02 is the most updated version
2nd and 3rd day Scenarios, Rev 1 - Correct discrepancies between scenario files embedded in the module and the official rules. 2nd and 3rd day Scenarios, Rev 2 - Further minor corrections.
Screen Shots
Players