Module:The Three Days of Gettysburg (third edition)
From Vassal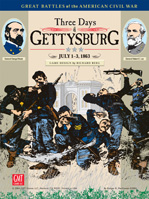 Files
Module Information
| | |
| --- | --- |
| Maintainer | Allen Dickerson |
| Contributors | Lee Trowbridge, Jason Stewart |
Comments
v1.27: Draw Pools display edited to correct error in the CSA EM mix.
v1.26: Missing unit added; Cutler's Union Brigade (2/1/1) was missing the 56th PA regiment. This unit is now added to the counter tray, and the Second Day and Third Day scenarios (in which the brigade appears set up to begin with) have been edited to incorporate the unit into the brigade (with appropriate redistribution of brigade losses)
v1.26: Bugfix: Union commanders right-mouse context menu is now working properly
v1.25: Various fixes and adjustments to create more player flexibility. Addition of Artillery Abandoned markers (per 2019 rules), Commander Overmove overlays (or optionally use the marker), Fatigue Markers (to use in place of overlays on brigadiers), SP markers that now go to 16 to support all combat units, etc.
v1.02: - Added an overview window (how could I have forgotten THAT??) - Consolidated a few markers; fixed the masking issue with the Confederate AM counters.
A v1.05 was indicated in error. There was another GBACW module I meant to upgrade. 1.02 is the most updated version
2nd and 3rd day Scenarios, Rev 1 - Correct discrepancies between scenario files embedded in the module and the official rules. 2nd and 3rd day Scenarios, Rev 2 - Further minor corrections.
Screen Shots
Players