Module:The War for the Union
From Vassal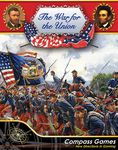 Files
Filename
Filetype
Size
Date
Compatibility
1.10
WftU-1-10.vmod
module
124.79 MB
2021-12-10
VASSAL 3.6.3+
1.01
WftU-1-01.vmod
module
49.22 MB
2021-12-10
Initial Version
1.00
WftU-1-00.vmod
module
49.16 MB
2019-02-18
Initial Version
Module Information
| | |
| --- | --- |
| Maintainer | Jim Pyle |
| Contributors | Jim Pyle, Carl Ise |
Comments
Be sure to see the "HELP" button for list of module features. A pre-setup game or other saved game must be loaded for this help to appear.
Version 1.10 Changes: • Added full set of WftU charts (earlier versions were missing a couple) • Added a button on the main bar call "SP Inventory" that shows current SPs by side (USA/CSA), Type (ST MIL/INF/CAV), and quality (MIL/VOL/VET). This makes it easier to calculate the SPs that need to be removed at certain points in the game.
Version 1.01 has fixes Bad Data errors in 3.6.0+ and removes counter rotation for land units, plus a few others that don't need to rotate.
Screen Shots
Players