Module:To The Last Man
From Vassal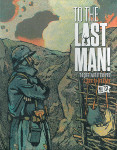 Files and Module Information
Comments
For the previous module corresponding to the print-and-play version of the game, see the module discussion page
Version 2.0.5
Added a Solo mode.
Version 2.0.3
Now you can place again on the map a fort that you have destroyed by mistake.
Version 2.0.2
Added the new and modified forts by the designer, corrected a bug which did not allow to destroy German forts (just in case).
Version 2.0.1
Added a twelve-sided dice roller menu to use with the related optional rule.
Version 2.0
Before you start, please read "How to Use This Module" in the Help menu. There are valuable tips that explain the module's features.
This is a brand new module built from scratch using high-resolution graphics supplied by Nuts! Publishing. Movement tracking/piece trails can be enabled or disabled as desired in your module preferences.

Features
Menu-driven card dealing
Display to track the number of cards in each player's hand
Areas toggle between Friendly, Disputed, and Enemy by clicking the area name.
Entrenching an army on the map automatically entrenches any infantry units on its template
If using the optional hidden army templates, all armies' contents can be hidden at once and then revealed on a per-army basis by toolbar buttons
Screen Shots
Players
Kevin Rohrer
JoelCFC25
Pierre Miranda