Module:Triumph & Tragedy
From Vassal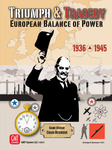 Files and Module Information
Comments
C&T Version 1.0 (6/11/2022) Craig asked me to make a master module that combined both T&T and C&T into a single module. Players can also play just T&T (ETO) side, or just the C&C (PTO) side of the game. Controls standardized between in this edition.
Version 36.3 (3/6/2020)
Fixed starting unit in Gibraltar (Inf --> Fort)
Version 36.2 (2/20/2020)
Fixed error with starting as Axis side
Version 36.1 (2/17/2020)
Updated to 2nd Edition Map
Updated to 2nd Edition starting setup (Removed 3-Step army in Moscow; Added 1-step fort in Gibraltar; Added 1-step Infantry in Karachi)
Version 35.2 (12/21/2015)
Fixed a setup bug where placing an Italian Fleet or Submarine would result in the other unit being deployed.
Fixed a setup bug where the Alles/UN player was unable to select starting units.
Screen Shots
Players
myth1202
Michaelangelo
athos
Pierre Miranda
Edward Prem
MgcRealm
TrimChris