Module:Twilight Imperium (third Edition): Shattered Empire
From Vassal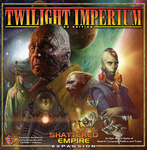 Files
Module Information
| | |
| --- | --- |
| Maintainer | Arakimos |
| Contributors | Lone Blackfang |
Comments
This module is in beta stages, and is optimized for live play (as opposed to PBEM).
If you have any comments or suggestions, please send them to Lone Blackfang
Module is also available here
---
V1.00 includes some minor changes to game play including a turn tracker, leaders and trade contracts that change with race card, etc. Some minor bugs were fixed and file size was reduced by removing unique action & political cards and replacing with common background with unique text.
Status Phase in turn counter now returns all Strategy cards in addition to refreshing all planets, repairing all ships and returning command counters from game board to player's reinforcements.
Screen Shots
Players
Arakimos
baraqstein
gautrau
jentzd
Adder007USA
Odysseus3
mowglee