Module:Victory in Vietnam
From Vassal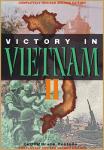 Files
Filename
Filetype
Size
Date
Compatibility
1.0
viv-2-10.vmod
Module
4.38 MB
xxxx-xx-xx
3.0+
Beta 0.6
viv-2-06.vmod
Module
4.37 MB
xxxx-xx-xx
3.0+
Module Information
| | |
| --- | --- |
| Maintainer | unknown |
| Contributors | theaney, Don Stone |
Comments
VASSAL module for Victory in Vietnam II, designed by Bruce Costello, and published by Schutze Games.
Adapted from the Aide-de-Camp module referenced in the back of the rulebook (I think -- I believe that most of the images used in this module originated in that Aide-de-Camp module -- unfortunately, I did most of the conversion several years ago and can no longer remember the exact provenance). Posted with permission of Bruce Costello and Peter Schutze (ref: Consimworld forum posts 732 and 733).
Designed by Bruce Costello and published by Schutze Games, Victory in Vietnam covers the war in Southeast Asia from 1964 to 1975 (with two short scenarios covering 1978-79).
This Vassal module is presently in progress.
For more info visit
Screen Shots
Players
Don Stone
theaney
pfglenn
KevinRohrer
yankeeap
Quintin Smith
Ricky Gray
Kevin Rohrer