Module:Victory in the Pacific
From Vassal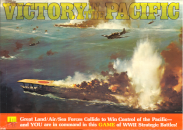 Files and Module Information
Filename
Filetype
Size
Date
Compatibility
Developer
Other Contributors
4.2.2
VIP_4_2_2.vmod
Module
8.75 MB
2023-02-02
3.6.10
Harald Fair
Mike Kaye
4.0.1
VIP_4_0_1.vmod
Module
8.31 MB
2022-05-30
3.6.6
Harald Fair
Harald Fair
3.4.1
VIPv341p02.vmod
Module
2.78 MB
2018-06-10
3.2.16+
Bill Thomson(wga)
wmsayers, wga, jw62, swampwallaby
3.4
VIPv34p01.vmod
Module
2.78 MB
2018-03-13
3.2.16+
Bill Thomson(wga)
wmsayers, wga, jw62, swampwallaby
3.3
VIPv33p01.vmod
Module
2.78 MB
2018-02-25
3.2.16+
Bill Thomson(wga)
wmsayers, wga, jw62, swampwallaby
3.2
VIPv32b05.vmod
Module
3.04 MB
2013-03-19
3.0+
Bill Thomson(wga)
wmsayers, wga, jw62, swampwallaby
Version History
VIP-VersionHistory-180610.zip
Module
5 KB
2018-06-10
3.0+
Bill Thomson(wga)
wmsayers, wga, jw62, swampwallaby
Misc
VITPMiscFiles.zip
Help Files
10 KB
unknown
Bill Thomson(wga)
wmsayers, wga, jw62, swampwallaby
Comments
v4.2.2 Updated 31-Jan-2023
Upgraded ship status markers - now contained on face of counter, requiring no additional space on sides
Essential information on ship faces remains readable with all combinations of status flags
Status flags remain affixed to the affected unit
Battle Board has been upgraded/cleaned up to support all battle styles
Battle markers are smaller with prominent numbers to indicate battle sequence
Battle markers are now clone-able and delete-able with 10 pre-made
Pointer marker free-text labels are now larger font and readable at most zoom levels

v4.0.1 Updated 13-Jun-2022
Implemented user-requested alteration of expanded stack positioning on MainMap for better visibility/organization

v4.0 Updated 30-May-2022
Scratch build of VIP w/ all new graphics
Choose from three maps

Nautical Chart Themed Map - color-palette taken from nautical charts. Large and small compass roses from nautical charts mark ports and bases respectively.
Black and White WWII News-Reel Themed Map
Original Map

Unit tags "disabled, sunk, damage, repair" don't obscure unit face info and don't separate from unit
BattleBoard enables organized execution of battles
Original Order Of Appearance charts integrated into game
Pointers allow map markers with notes and rotating point indicators

v3.4 Updated 12-Jun-2018
Standardized unit and appropriate marker traits to Ctrl-D (Disable) adn Ctrl-X (Delete). Open Turn 2 Help file added. Units/Markiers in play from games started in previous version are NOT updated. I can either communicate how to manualy update or send me the game file and I will update (bill@wargameacademy.org).

PBEM Ladder and Tournament play.
Click here for game information about this title
VITP has 13 areas, not 11. Several count for POC (VP) for only one side or the other if controlled.
Screen Shots
Players
wmsayers
Rick Billings
eskravitz
BScheuert
arakis
MarkinSA
stephenq
milazar
UMiller
Synicbast
CarlN0130
usapatriot1963
Burkhalter
SimmyP
SkunkyBeer
FrighteningFred
senecathegreat
Bluekingzog
mking
Charleson
Dynaman
taellik123
raestuart
tormee
daxelos
MCharves
shmcbee
Breaker
petewins1368
MichaelHovan
Wicked133
luckynakita
andy1bad
sarfs
jamin2kiss
andy1bad
gittes
Napobertrand
Starkadd
dangermike
Dan67
jimbahadur