Module:Warriors of God
From Vassal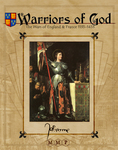 Files
Module Information
Comments
In many ways, our world was shaped by the calamitous wars of medieval Europe. For over 400 years England and France, those two bitterest of enemies, fought for supremacy. Some of the most famous names in history carved out their names on these battlefields from Richard the Lionheart to Joan of Arc.
Version 2.8
Added Vassal 3.6 Compatibility.
Version 2.7
Fixed bug causing crashes when using old Multi-dice buttons and/or trying to save a log file.
Version 2.6.1
Minor fixes: Changed color of Brittany English control overlay to be red instead of bluish-purple. Fixed a few typos.
Screen Shots
Players
swampwallaby
KevinRohrer
Preacher
DerDiplomat
drmabuse00
wifwendell
Sagrilarus
PacoHolliday
Saufeius
yangtze
CMV233
SamuraiLord
daxelos
Pennicillina
yankeeap
destroyer1963
MikeO
xrubio
Noman
Charlescab
JoelCFC25
linlin
rddfxx
Kevin Rohrer