Module:Wars of Marcus Aurelius: Rome 170-180CE
From Vassal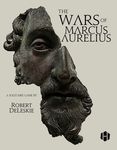 Files and Module Information
Comments
A solitaire, CDG-flavoured, strategic-level game set during the Marcomannic Wars, 170CE-180CE. Playing from the perspective of Emperor Marcus Aurelius, your goal is to defeat and pacify three different tribes while managing off-map wars and rebellions, troop shortages, limited resources, and the effects of plague—all while maintaining your standing with the Senate and people of Rome.
© 2018 Hollandspiele. All rights reserved. Included by permission of the publisher
Please support Hollandspiele!
Change Log
Version 1.2
Vassal 3.6.19+ compatibility
removed unused images
reduced PNG file size
reduced overall VMOD file size
updated / refreshed toolbar icons
added PDF English rules
added symbolic dice button
reduced mouse over stack viewer / zoom on mainmap
enabled HTML chatlog to show dice results
Version 1.0
This is the first draft of a Vassal module for the CDG Game "Wars of Marcus Aurelius"
Screen Shots
Players