Module:Wars of Marcus Aurelius: Rome 170-180CE
From Vassal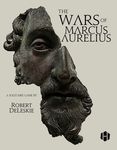 Files
Module Information
| | |
| --- | --- |
| Maintainer | gattsu |
| Contributors | |
Comments
A solitaire, CDG-flavoured, strategic-level game set during the Marcomannic Wars, 170CE-180CE. Playing from the perspective of Emperor Marcus Aurelius, your goal is to defeat and pacify three different tribes while managing off-map wars and rebellions, troop shortages, limited resources, and the effects of plague—all while maintaining your standing with the Senate and people of Rome.
Version 1.0 This is the first draft of a Vassal module for the CDG Game "Wars of Marcus Aurelius"
© 2018 Hollandspiele. All rights reserved. Included by permission of the publisher
Please support Hollandspiele!
Screen Shots
Players