Module:Web and Starship
From Vassal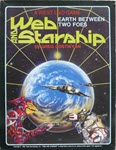 Files
Module Information
| | |
| --- | --- |
| Maintainer | Tom Swider |
| Contributors | Karoly Szigetvari |
Comments
On the map near each planet's name is a control to display the distance to various systems within 12 MPs. Color coding shows destination is either neutral, Terran, Gwenhyfarr or Pereen. Be sure to read the help topics for other features, including the recommend activities that should occur during each player's log recording.
Version 1.1
(1) Settlement range from Sol to 70 is Ophiuchi is 8, not 9.
(2) Added Sequence of Play buttons to track sequence of standard and battle game turns.
(3) Enabled text labels for player forces to help better document their locations in tight space on the map, or for other notes.
(4) Added battleboard and battle marker. Use marker to indicate the location for units returning from the battle board.
(4) Added scenario setup for The Meelifahr Low War.
Screen Shots
Players