Module:Wilderness War
From Vassal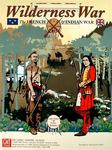 Files

For previous versions of this module, see the module discussion page
Module Information
| | |
| --- | --- |
| Maintainer | JoelCFC25 |
| Contributors | |
Comments
Version 3.0
Before you start, please read "How to Use This Module" in the Help menu. There are valuable tips that explain the module's features.
This is a brand new module built from scratch using high-resolution graphics kindly supplied by GMT. Several extraneous windows and marker tracks have been consolidated onto the board itself to reduce clutter. Reporting is more targeted and readable. Overall, the intent is to better facilitate live or non-ACTS play. Movement tracking/piece trails can be enabled or disabled as desired in your module preferences. Game Piece Layers are utilized and location snapping removed to eliminate the need for fortification labels and better manage opposing stacks in siege situations.
Note: There is no Solo player side in this module. If you would like to add one, use the instructions I've provided here on BGG.
Features
Menu-driven card dealing
Display to track the number of cards in each player's hand
Player hand buttons to perform a random discard and give a random card to the opponent
Leader counters toggle between their large standup and smaller versions to use as desired
A force's combat strength is displayed in the stack viewer
Toolbar button to clear all Raided markers (use at end of Late Season only)
One-click random British leader selection
Playing Surrender! (or having it randomly discarded) sets the Reshuffle indicator below the discard pile
Screen Shots
Players
MedievalBanquet
ktodd
theaney
Wargamer777
lrenn
gyoung20
MiracleMike
Toadkillerdog
Burkhalter
Alejandro
Alexander331bc
RTyson
Ogreking
pzlehr
bkindt
allenwcu
bkindt
pmiranda
Bartleby
tobias
Arnaud
czmielon
Monkatron
brucesears
casoli
senecathegreat
lucignon
warbear
sedecula
magritte1
Grumpsie
cornjob
czmielon
Noman
nahar
TKaz84
brandysta
rstolins
JoelCFC25
daxelos
VonBrunt
Agitator
BradM
nwright
czmielon
gittes
vmi1983
MikeO
tippecanoe8
jeb123
faqtotum
jll1024
rddfxx
Ltgustl
AZakaria
davidk64