Module:X-Men: Mutant Insurrection
From Vassal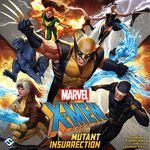 Files
Module Information
| | |
| --- | --- |
| Maintainer | gattsu |
| Contributors | |
Comments
X-Men: Mutant Insurrection invites you to travel the globe on death-defying missions to recruit new mutants, capture criminals, protect innocent lives, and battle some of the most memorable X-Men supervillains. Eight distinct scenarios await you and your X-Men, each with their own challenges and each leading to a no-holds-barred showdown against the villain. The Blackbird is ready to launch — join your team and fight for the future!
Version 1.0 This is the first version of a Vassal module for the Game "X-Men: Mutant Insurrection". I have not included the dice. This is due a police of FFG as you have to own the game to play this module.
© 2021 FFG. All rights reserved.
Screen Shots
Players