Module:2 Minutes to Midnight
From Vassal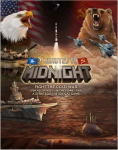 Files
Module Information
| | |
| --- | --- |
| Maintainer | Edgar Gallego, Jim Perkinson |
| Contributors | Stuart Tonge |
Comments
BGG Link: 2 Minutes to Midnight

(Latest)
Version 1.21 (Jim Perkinson)

-Added Missing USSR Spy -Added Missing Saudi Arabia Chit -Fixed Egypt to +1 US Influence at start
Version 1.20 (Jim Perkinson)

To start a new game with 1.20 Access via menu File -> "New Game - Modified Layout", then click on main window button "1-Soviet Steamroller Setup"
-Each country has a (fixed, layered) investment, GVT, and Influence marker that you can right click to increment/decrement (shift) towards US or USSR. This cleans up the map significantly.
-Annotates for the logfile which country and adjustment is being made for simple reading when PBEM.
-Modified the starting destruction and trade chits with a very small 'x2' in the corner to denote which industry spaces are worth "2". Avoids having to move the chits in the module to recall the spaces worth underneath.
-The correct number of chits for each strategic weapon is placed on the tech board on startup.
-added three 'red army' money cards to the card window- so we don't have to use a different card as substitution. These get returned to the 'special' deck when used.
-Fixed 'Soviet Diplomacy' card menu actions so it cycles like a normal cycle card
-Fixed 'Destalinization' cards menu actions they go to 'removed'
-Tech map- Free Military Build (@ end of turn)
-"Chit Count" text added to help section of Menu
-"Changelog" text added to help section of Menu (this file)
-Moved the '2d6' and '3d6' buttons out of the dice menu- since those are used quite frequently by users
I also segmented this so a user could start with these options 'On' (start a 'modified' setup), or instead pick the 'default' setup and functionality unchanged from version 1.11
-Added V1.20 setup w/ new chits: Access via menu File -> "New Game - Modified Layout", then click on main window button "1-Soviet Steamroller Setup"
-Preserved V1.11 default setup - Access via menu File -> "New Game - Original Layout"

KNOWN BUGS: -Missing USSR SPY in US on setup (Drag a new one there to fix)
-Missing Trade Chit in Saudi Arabia on startup (Drag from counter menu to fix)
-Missing US Influence Cube in Egypt
(Old versions) Version 1.11: The notes section has the maximum number of counters when they are limited by countersheet. Also the names of those counters (for USA and USSR) are in the name, i.e "ICBM USSR (5)" (no number if it's "(1)")
Version 1.10: Some cards had the return to deck not available, and others sent the card to other decks. Fixed.
Version 1.01: Spies counters didn't have a "flip" option, now they do.
Version 1.00: First version.
Screen Shots
Players