Module:Battle for Moscow
From Vassal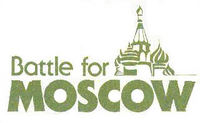 Files
Module Information
| | |
| --- | --- |
| Maintainer | json99 |
| Contributors | json99, Olivier,Davejm |
Comments
A free introduction to Wargaming
V2.0 is the C3i reprint of the Original Battle For Moscow with the Expansion set and Winter Offensive. Rules within the module.
Alternate Version
The alternate version is of the 2009 reprint by Victory Point Games for the same game.
Version 1.0.1 is adding chess clocks to help with tournament play.
Version 1.0.2 of the Battle for Moscow vassal includes the following enhancements:
Select multiple pieces and add battle markers with single click
Use shortcut keys to place battle markers example "Ctrl+1"
Improved moved piece markers
Known Bug for future version existing in v 1.0.1 & 1.0.2 The clear-attack-marker function should deselect all units as its final function. At the moment, it leaves all units that had an attack marker selected, so an incautious player will find themselves moving a lot of units while expecting to move just one. [The workaround is to click on the map after clearing the attack markers.]
Screen Shots
Players
Castaway99
json99
usapatriot1963
fenris
Rindu
JimGrognard
RedBishop
marksheppard
stewartnairn
LordJesse
mortificator
destroyer1963
J6A
Paul-E