Module:Conquest of the Empire
From Vassal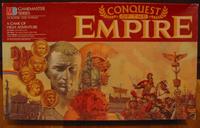 Files
Filename
Filetype
Size
Date
Compatibility
4.1
cote_4.1.vmod
Module
2.66 MB
2016-01-03
3.2
imperator.vmdx
Extension
3.2 MB
2016-01-03
3.2
Module Information
Comments
Conquest of the Empire is part of Milton Bradley's Gamemaster series. It is set during the Roman Empire and depicts the struggle around the Mediterranean as rival factions attempt to take control of the empire. Each player plays one of these factions and receives a Caesar figure, several general figures, and ships of a specific color. Along with these leaders, players utilize a pool of generic units composed of infantry, cavalry, and catapults. Players attempt to conquer their neighbors and build up cities and fortifications to increase production of wealth.
The Imperator extension adds many new rules to Conquest of the Empire, including the following:
New units: New units include Praetorians, Capital Cities, and Monuments.
Cards: Two new decks of cards are added: Combat cards, used to give tactical advantage in combat; and Fate cards, which add random events to the game.
Barbarian Invaders: Barbarian tribes overrun the Empire! New barbarian units include Infantry and Cavalry.
Screen Shots
Players
shmcbee
Mycenae
Ebbor
pyero
Starkadd
DerDiplomat
Arnolad
dangermike
ChaosWolf
davidk64