Module:D-Day - Smithsonian Edition
From Vassal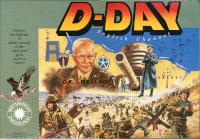 Files and Module Information
Change Log
Version 1.0
Version 2.0

Battle markers
Automatic odds calculation
Automatic battle resolution
Automatic move points
Optional rules interface
Comments
| | |
| --- | --- |
| Period | WWII |
| Theatre | Western front |
| Level | Operational |
| Hex scale | 37km (23 miles) |
| Unit scale | Corps (xxx) |
| Turn scale | 1 month |
| # turns | 12 |
| Unit density | Medium |
| Complexity | 1 of 10 |
| Solitaire | 8 of 10 |

Features:
Scenarios
Amphibious assault
Optional rules
Air operations
Supply

This is a module of Avalon Hill Game Company's hex'n'counter wargame D-Day - Smithsonian Edition, developed in collaboration with the Smithsonian Institute for their American History series (VASSAL modules). It is derived from AHGC's more advanced game D-Day (VASSAL module and Print'n'Play versions).

These module features
Rules in the Help menu
A tutorial (to come)
Automatic battle and odds markers
Automatic combat resolution and result markers
Reminders on user actions
(Semi-) Historical set-up
Two scenarios, actual 1944 invasion and early 1943 invasion (separate modules)

Concerning combats
Select attacking and defending units, and press Odds (Ctrl-Y) button

Adds battle markers
Calculates odds, including terrain and ground condition effects, and adds marker

Select odds marker and select Resolve (Ctrl-X) from context menu

Rolls dice and looks up result
Replaces odds marker with result marker

Factions must implement the result (retreats,losses,etc.)
See also the Help->More information for more.
See also the sister game Battle of the Bulge - Smithsonian Edition, available as a VASSAL module and as a Print'n'Play (to come) PDF.
Tips
Use the turn track in the menu bar. It implements some automatic actions, and progresses the turn marker along the turn track.
Battle markers and automatic battle resolution.
On game start, select optional rules to use. Will be locked thereafter.
The rules are available, as a PDF, through the Help menu.
See also More information in the Help menu.
Run the tutorial (when it becomes available :-)
Implementation
This module is based on my version of the game (sources available from this site). This version a revamp of the original, including new text and graphics, written in LaTeX using wargame package. This package supports generating a (draft) VASSAL module from the same sources as the Print'n'Play PDF.
Links
Screen Shots
Players