Module:Drive on Kursk: July 1943
From Vassal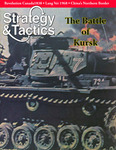 Files
Module Information
| | |
| --- | --- |
| Maintainer | allendkrsn@yahoo.com |
| Contributors | |
Comments
v1.01: fixed a few missing units from the setup
From S&T Magazine #253
Fixed a few printed counter errors during production: a few Soviet units had incorrect graphics on the back, denoting them as non-Reserve units, or 5 Soviet units had Russian control markers on their backs. One German unit mislabled; this was corrected also.
Units have a feature to send them to the correct "Dead Pool" when eliminated. This helps in keeping the running VP calculation critical to determining a victor. Right-click a unit, choose the feature in the drop-down, and then open the Dead Pool display to find the unit "transported" there, and a message in the text buffer also appears.
Screen Shots
Players