Module:Fury in the East
From Vassal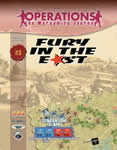 Files and Module Information
Comments
Ginichiro Suzuki design
Version 1.2 Notes:
Removed hex grid number -- I have no idea how this happened; such numbering should be invisible. At any rate it is fixed now.
Added mark when moved trait to units.
Version 1.3 Notes:
Based off of 1.2, I increased the floating counter pop up window size so you can see which units moved that are stacked in a hex. (We still need a Turn counter, will look into add that later on if warranted).
Screen Shots
Players