Module:Outpost Gamma
From Vassal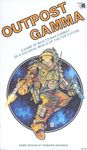 Files
Module Information
Comments
The Imperial Legion's last stand against the Irdan hordes!
Outpost Gamma is a game of science fiction combat for two players. With its unpredictable storms and fast-playing combat system, Outpost Gamma captures the tension and rapid-fire action of high- versus low-technology combat in a hostile environment.
The module features re-worked counters and map, and an automatic system for storm movement.
Screen Shots
Players
Mycenae
DerDiplomat
davidk64