Module:Star Smuggler
From Vassal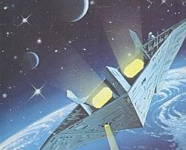 Files
Filename
Filetype
Size
Date
Compatibility
0.2.29
starsmuggler.vmod
module
53.04 MB
2013-09-21
3.2.9-svn8828
Module Information
| | |
| --- | --- |
| Maintainer | Stephen Rogers |
| Contributors | |
Comments
Despite the compatibility indicated above, the mod runs without any difficulties in 3.2.8.
It is highly recommended that new players read through the Rules Introduction option under Help. The game initializes to the state described in E001 automatically. The game's full events and rules booklets are incorporated under the Rules/Events tags, and a Notes window is included for additional bookkeeping functionality. The mod also includes a number of additional marker tokens for items such as commodities, planetary names and general equipment. There should be a sufficient number of token tiles included the mod to cover every possibility presented by the game; players may use these tokens as they so choose.
To change the value of Number Markers, click on a specific digit; changes can be made either via right-click menu or via the bracket keys. The black artifact on the zero layer of the Number Marker has been placed on purpose as a visual cue.
The maintainer of this mod must report that some issues were experienced with the size of the text window when the game initialized (the main board containing the date and debt trackers were completely obscured) as well as with the token menus (the individual token menus were again completely obscured). It may be necessary to resize windows to gain full access to the mod's functionality. Work to correct this issue is ongoing.
Players who wish to use the original boards may do so using the "Random Planet" option under the Planets menu (this option is intended to fulfill the functions of the R209 rule and is the only place that contains the original set of boards). To select a new source board, alt-click on the side of the map you wish to change and then either hit the Open Bracket ("[") key, or change it via right-click menu. NOTE: It was necessary to make these boards layered pieces to give them their functionality, and game piece layers have not been implemented with this mod. Players are advised to make sure all other pieces are off the side of the map to be changed - unless they don't mind their pieces being irretrievably concealed by the board.
DISTRIBUTION AGREEMENT -- PLEASE NOTE: Dennis Sustare has granted permission for digitized copies of the original copyrighted game to be posted for public download at http://dwarfstar.brainiac.com/ds_starsmuggler.html. The original Star Smuggler game components and files are NOT released into the public domain. You MAY NOT not sell the Star Smuggler game components or charge a fee for access to the game files. You MAY NOT distribute the original Star Smuggler game files except as authorized by Dennis Sustare. You may also not post any of the revised artwork created by Todd Sanders included in this mod, in any form, on www.artscow.com or www.printerstudio.com, or print copies through SuperiorPOD.
Screen Shots
Players