Module:Strike Force One: The Cold War Heats Up – 1975
From Vassal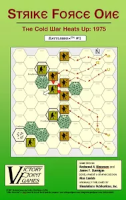 Files and Module Information
Filename
Filetype
Size
Date
Compatibility
Developer
Other Contributors
1.0
StrikeForceOne.vmod ‎
Module
2.72 MB
2022-11-01
3.6
Christian Holm Christensen
Change Log
Comments
This is a module of Simulation Publications, Inc.'s hex'n'counter wargame Strike Force One and the expansion Strike Force One+ (published by Victory Point Games). This Basic game is a short introductory game for the novice wargamer, while the Advanced and Expert levels provide a natural progression to ease the new-comer into higher abstraction levels of simulated conflicts.
Tips
Use the turn track in the menu bar.
The rules are available, as a PDF, through the Help menu.
See also More information in the Help menu.
Run the tutorial
Implementation
This module is based on my version of the game (sources available from this site). This version a revamp of the original, including new text and graphics, written in LaTeX using wargame package. This package supports generating a (draft) VASSAL module from the same sources as the Print'n'Play PDF.
Links
Screen Shots
Players