Module:The Russian Campaign
From Vassal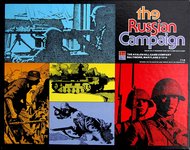 Files and Module Information
Comments
5th edition includes updated features and improved graphics
151128 Update:
Both TRC 3rd and 4th edition module updated reflecting general optimization to current WGA standard and incorporate all issues identified by players. L2 Design Group published the 4th edition. TRC 3rd is the TAHGC edition which is commonly in most every gamer's inventory. TRC4 is the default used in FTF tournaments [Prezcon, Word Boardgame Championships), PBEM tournaments [WBC], and online play [1]
The Wargame Academy Vassal Team (Brent Easton, Jeff Wise, Bill Thomson) original 1.0 used the beta AutoImages for counter generation and population of OOB for all scenario. This became orphaned when VASSAL Engine obsoleted AutoImages replacing this function with GamePieceImages.
Original TRC3 version 0.5 by Brian Conlan & Charles Bentley

TRC 4th Edition by Toze Santos
TRC 4th Edition by Toze Santos is a module to The Russian Campaign 4th Edition with redrawn maps and counters.
Screen Shots
Players
Bazlak
DeadEyeGunner
dmsheppard1949
brianconlon
wga
Damon
pfglenn
usapatriot1963
fenris
milazar
MarkinSA
jflange
patton1138
DerDiplomat
baub64
CroakerPete
berthier
Manuel
frenkyM
JimGrognard
dourden
DonLazov
Timmi47
mrurb2
FrighteningFred
BigDave
fgbelmon
RedBishop
saman
intellek
marksheppard
Lollok
DaveTuransky
scotty
federale136
bakerman
Honus
meng
aksanchez
Hipshot
Rindis
mskgoss1963
daxelos
CMV233
nitro50010
daxelos
donpaulo
emersonbr
destroyer1963
BigNoodle
MoBrooks
anomaly99
Kingfish
pzlehr
bdgza
jimbar28
Damon
Tinto
Paul-E
zovs66
Don Lazov
Brad Stirrat
Dede Richs
{{{2}}}
{{{2}}}
Toze Santos
Kevin Conway
BlintzesWithKreig
blucid
ScottishHoardes