Module:Totaler Krieg! (2nd Edition) / Dai Senso
From Vassal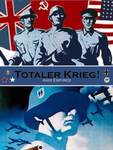 Files and Module Information
Comments
Version 14.0:
Added Expansion Kit Maps with improved rendition and two new zoom levels
Added Expansion Kit Cards and Counters (exception: Dice of Decision and Fortune of War cards have NOT been updated in this version)
Added Schiffskrieg counters to trays for the 1937 Scenario
Minor cleanup and fixes
NOTE: ALL PREVIOUS 'EXPANSION KIT' EDITIONS ARE OBSOLETE, DUE TO SIGNIFICANT FINAL MAP DESIGN CHANGES.
Version 11.26: (obsolete)
Added missing US Naval Superiority marker to Counters and DS Tray.
Updated all scenarios.
Version 11.25: (obsolete)
Corrected Placement of Texas BB in 1937 scenario.
Added missing Servron markers to Counters and DS Tray.
Added scenarios for DS 1943.
Based on May 2017 upgrade kit and 2018 Scenario update information.
Version 11.23: (obsolete)
Added all SK counters and included a 1937 start TK/DS scenario.
Added SK charts for battles and shipbuilding.
Added scenario with empty maps for combined TK and DS.
updated ESV chart.
All based on the May 2017 upgrade kit.
fixed error where Allied blitz markers did not highlight radius properly.
Version 11.14: (obsolete)
Added the replacement/new option cards, errata/new counters and the improved charts for the 'vanilla' game, based on the May 2017 upgrade kit.
Updated map artwork for both TK and DS, based on the May 2017 upgrade kit. There are minor aesthetic errors due to overlay positioning.
SK materials (from the May 2017 upgrade kit) will be added in an update, once the many e-counters for ships/LBAs are created -- target timeframe Sept 2017.
Version 10.6x:
Added option cards (and political charts and counters) for the upgrade kit.
Added European War Status tracks in the "turn track" window (both for the published version and the "upgrade kit").
Added "Custom US" counters from CSW (more green, correct card id number).
Counter Tray ergonomy improvement.
Version 10.5: Rewrite and modified from the previous version:
Card images from the published version.
Complete rewrite of the internal system, including:

Commitment of Support to the other theatre.
Activation of minors to one faction.
"smart" Force Pool remembering the position of counters (avoid stacking when sending to pool).

Counters Trays for easier access to counter during game.
Shading of Weather areas and weather for current turn.
Shades for Failure, Blitz and HQ areas.
Version 9.0:
Fixed Map and Cards from the published AE games (Decision Games, 2011).
Work in progress: there are still some errors (small ones on cards, counter trays not fixed, Turn tracks not updated in the mini-window) that will be corrected soon.
Version 8.56:
Fixed Units for Card 20, I-Boat pop-up options.
Version 8.55:
Fixed Sea Zone, updated turn track to show proper weather listings.
Version 8.54:
Added missing DS Western Card 1b.
Version 8.53:
(TK + DS)- Updated to Designers' Release June 2010 (Major DS update from v7.13)
Version 7.13:
(TK + DS)- Updated to Designers' Release April, '09

By permission of Thomas Prowell -- V 14.0 -- is based on the final update package.
WW II Strategic Level Simulation covering both the European and Pacific Theatres
Living rules and scenarios: [NOTE -- THE FOLLOWING INFORMATION IS OUT OF DATE AND WILL BE UPDATED UPON PUBLICATION OF THE UPGRADE KIT.]
http://decisiongames.com/html/axis_emp_TK_DS.html
Old stuff follows...
11/23/07 - New release of module after a new release of TK2. This module conforms to the new rules and updates at http://www.alanemrich.com/TK2_pages/tk2-downloads.htm.
10/6/06 - Version 2.00 released 10/6/2006. No functional changes from 1.03, but much smaller (in memory) maps. The map quality is slightly worse (but still decent), but 4 MB have been shaved off the size of the mod, which should increase rendering speed quite a bit.
~ 7/1/06 - Version 1.00 released. The mod is about 17 MB, so cannot be downloaded as a single file, but is reasonbly simple to build from the parts.
Screen Shots
Players
theesch1
jeb123
jcr
brucesears
meng
BigDave
DerDiplomat
nwnelson
santi
jtcourtne
dholte
pfglenn
quicksabre
pborgnat
Jym
Boka
gbaok
marchanna