Module:Virgin Queen
From Vassal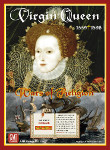 Files and Module Information
Filename
Filetype
Size
Date
Compatibility
Developer
Other Contributors
4.2
Virgin_Queen_4.2.vmod
Module
12.12 MB
2022-06-05
3.6.7+
JoelCFC25
mkiefte, Dulgin
Comments
Please read "How to Use This Module" in the Help menu or Player Aids menu after opening the module! There is also a Quick Start file to help the process of starting a game (either with or without ACTS). As of 4.1, the Tutorial Scenario is no longer included--if you really want to try it, see the discussion page for links to older modules that include it.
NOTE: This module does not enforce rules. Players need to know the rules and apply them correctly. It tracks the Protestant space count just like the Here I Stand module.
Compatibility and Upgrading: Saved games and logfiles from earlier versions are not compatible--never change module versions in the midst of an ongoing PBEM game.
For module changelog and older versions, see the module discussion page.
Version 4.2
New Features
Eliminated naval units on the Turn Track are returned to the force pool when the turn is advanced
Reporting for when units are moved from the force pool to the map
Added HTML to reporting
Moved some items out of palette to fixed quantity on power cards (Virgin Queen VPs, Paris VPs, Suez VPs); Wedding Festivities marker on marriage display
Fixes
Stop counting Huguenot control of Bayonne in the Catholic League formation tracker
Managing Control Markers
Screen Shots
Players
Laurent
PaoloM
JoelCFC25
Rindis
Fleanbilly
ohestnes
vaunt
John Longstreet
Dulgin