Module:Stalingrad
From Vassal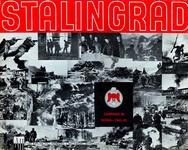 Files and Module Information
Comments
The Avalon Hill classic of the turning point of World War II. The module uses board and counter art by John Cooper.
The Base10 extension adds an optional combat table based on the roll of a 10-sided die.
Module Version 3.0 adds screen capture plus several more additions for those with tired eyes.
Stalingrad "Original Art" uses map and counters from the original 1963 Avalon Hill game.
Plus version "Original Art" incorporates 17 Russian Setups used by masters of the game. (My inspiration derived from Stalingrad's ZunTzu gamebox.)
NOTE that Stalingrad OA with AH hex numbers (Version 3.2) has a custom code "Out of Date" message but just ignore. (Click "Do Not Show This Again") but it does have the original Avalon Hill oblique hex numbering system incorporated.
WGA 160210: Still working on resolving oblique (diagonal) hex id's to enable correct logging of movement. This is resolved in WGA Afrika Korps module via custom java code many years ago. I seem to be unable to import the class successfully into this module; my java programmer is no longer accessible.
Screen Shots
Players
Mycenae
destroyer1963
ijanssen
basem2502
vmi1983
cws
vonhessian
wga
scs