Module:Twilight Struggle
From Vassal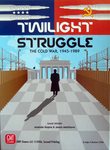 Files
Module Information
| | |
| --- | --- |
| Maintainer | mkiefte |
| Contributors | mkiefte, tmccarron, jtesser, swampwallaby, bdgza, Kaiman, Dangulica, Benkyo |
Comments
NRE 1.0.2
Essentially the same as the PBEM module, but includes a button to deal cards and dice roll buttons, so can be played standalone without ACTS. NRE stands for "no rule enforcement", to distinguish this version from 3.1.2, which features full rule-enforcement.
PBEM 1.2
Designed for use with ACTS handling cards and dice rolls. Use the "Solo" player for storing data about the board and cards. Use "Soviet" and "American" players for "pass and play".
Automated Presence/Domination/Control indicators
Card use can be tracked from a toolbar menu by right-click commands
Automated event markers and addition of mid/late war decks
3.1.2
Minor bug fixes
Will now appear in its own room in VASSAL to prevent syncing with older versions
Compiled for Java 5 for backwards compatibility with older JREs
Added a dialog which asks if you're sure you want to play a card in the Space Race (which cannot be undone). This alert can be turned off in the preferences.
3.1
This module looks the same as the previous version but it works very differently. Here's a quick summary:
full rules automation and enforcement
support for PBeM
support for solo play
ability to randomly assign sides
chess clocks to track time played for each side
will show legal influence placement for both regular Op play and individual events
dialogs are modeless which means that you can still move around the mapboard even when a dialog has popped up
alerts players when they are to play (can be turned off in options).
options to close hand when card played automatically (in options).
automatically advance turn tracker when finished or done manually (so you can undo a play if you have second thoughts -- available in options)
better support for undo (some things you cannot undo: whenever die is rolled, whenever a random card is drawn, when opponent can react, etc.)
other things that I can't think of right now (but those are the main ones)
This has been tested for two months by a team of playtesters, but that doesn't mean there are no bugs. Please contact me at mkiefte@gmail.com if you find anything.
And, as always, I am open to suggestions. That doesn't mean I'll implement them, but I will take them seriously and I usually do implement them (a lot of the above changes are the results of suggestions). Keep in mind that some things are impossible because this is still basically based on VASSAL.
Screen Shots
Players
Pipuf
aqui
Dangulica
Sarge85
Darcy Burgess
juventus10
tmccarron
MikeO
Wargamer777
lrenn
warbear
ScottMayne
theaney
Demoitor
dropded
seanmac31
gyoung20
Gherardo
Alberto
DerDiplomat
calvinus
MiracleMike
Toadkillerdog
ArmedMedic
sprydle
SirGoul
TrimChris
rosso
firefly
Norty
Ogreking
Farsol
MedievalBanquet
RebelRob
czmielon
HAJ752
eskravitz
Coinflip
Bluekingzog
CroakerPete
paulus22
Alby
jtesser
rickbill
ssather
ges
Jibe
SimmyP
KevinRohrer
BobJ
Athos
Profit
pzlehr
runnersan
ricmadeira
jpke
saisu
SimmyP
pmiranda
mickery
Lanehess
Diego
zylin
Boris
ges
Telchar
xrubio
Infernarl
casoli
DRZ
twhitten
Minaya
Cantata
PerFischer
jeibel
EricTheRed
Rondor
yams69
bpisarik
Hal752
allenwcu
Toonces
warloc66
Buck
regbob
wga
mking
Hugh
cwmassey
Tmo
malbersado
jburdett
ermd
gap10
wittgenstein
rporrini
ColtsFan76
madhatter
zollone
Leonidas300
Morpheus
bilosta
Vonpaolus
lesulm1
Peppe74
Josh
MajorOracle
Lollok
calamar
cornjob
leegb1
kaukrato
raestuart
Preacher
croak
onibaloney
Josep
ArmedMedic
jbarreto
gittes
Dysken
todokeniata
Iorwerth
LordJesse
harkonnen13
KevinRohrer
tanglewood
jokerlan
Salamon
afifter
shmcbee
gwylie
Hellgie
daveyk39
Morpheus
lg
Pabu
CDRodeffer
BFD
valkray
crimedog66
Marael
Douglass
ubirata
Liverbirds
Vetinari
TKaz84
hobnob
Athos
miyazakigrognard
Metro
Bridger
Metro
sincrobuster
Asra
caronthefiend
moloch
PROPUGNATOR
eskravitz
Parvus
CBRMichael
Saufeius
TomMcCorry
elister
jksedge
Agitator
Agitator
gsikon
jokerlan
VonBrunt
Shako
Turnerius
rudyhuxxxtable
BugDany
Ebbor
Boxman
rhammond
lj1983
Gevalle
IdiotCrow
psnixon
Schlinker
csrobins
gittes
happygrue
robarrieta
PontusNalle
PROPUGNATOR
nicolassabido
js314159
billgoode
pelotonto
smtudor
Baxter
pkone3
DrJambo
callmeVlad
MrJazbutis
jgs3
Cashnex
nitro50010
Tulfa
BKK
bdgza
rddfxx
porkbelly
J6A
Luca Di Gennaro
Eddy Riggs
RPMcMurphee
ganotisim
JoelCFC25
Brettner
Dan Kaufman
Roger Leroux
Howitzer99
Abismo2000
John Anderson
zschub
Bruiser419
casey92
John Longstreet
Derekrledr
Mark Johnson
MacStrass
exoow
ldsdbomber
anewcar
Belshire
Mano82
Michael Webb
Vitaly820
zbyhoo
John Foster